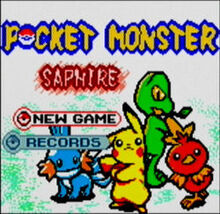 Pocket Monster 'Saphire' is a bootleg for the Gameboy Color.
Story
After winning the long-time lost Improbity Badge, the Rocket Brigade barbarically destroy the peace of Magic Baby's world, even more they crazily loot previous Magic Baby. Being aware of this, Xiaozhi and his pals decide to stop their devilry but only to be imprisoned.
In order to find the scattered host and rescue the Pocket Monsters looted by the Rocket Brigade, Pikachu, though losing touch with Xiaozhi, decided to go out for a battle with his pals. However, all the way are full of complicated problems, this time...
Can they really get out of all these problem in a whole skin?
Gameplay
Pocket Monster 'Saphire' is a strategy RPG where you play as Pichu (or Piku who will eventually evolve into Pikachu and finally into Leichu ) who can recruit up to 20 Magic Babies and travel around the map battling other Magic Babies. Like most strategy RPGs, the player has to strategically direct their troops to have the advantage over the enemy troops and "escape in a whole skin". When two magic babies collide on the map a battle activates. Battles follow a turned based system where a Magic Baby can either perform a standard attack a special attack or use an item.
Magic Babies

This game consist of Magic Babies from gen 1-3 such as: Qutstanding nuntortoise (Squirtle), Mumleaf (Chikorita), Strongbear (Feraligatr), and the beloved Fat D (Jigglypuff).
Screenshots